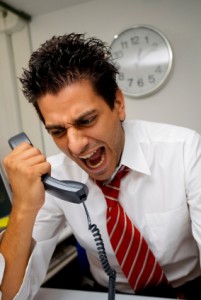 I trust you ALL had a fabulous Merry Christmas or Holiday or Hanukah or what ever the "Winter Solstice" brought your way!! Now, I want to wish you ALL a very Blessed and prosperous NEW YEAR, and make it the very best in 2018!!
OH MY … why is this guy yelling into the phone?? Maybe it has to do with reading the MLS entries under the public comment section. You know, that area we do our best to create interest in our new listings, with the right wording, descriptions, and enticing phrases.
The Kind like: "bedrooms in the basement are non-conforming"… OH Really?? Maybe it's my little "pet peeve" and with the New Year just around the corner, like next week… I would like to encourage all of those Colorado Brokers to NOT describe rooms that you wished were "true bedrooms" in the basement. So as to increase the amount of bedrooms a house may have, when working your marketing material, just like the MLS, and all of those websites that syndicate from the MLS.
I mean, let's face it, 4 bedroom house sounds better than 2 bedroom with large nice studies / storage rooms in the basement.
To the dismay of many … there is really NO such thing as a "non-conforming" BEDROOM in a basement. It's either a BEDROOM or NOT. In some cases, the same may be said about those on other levels of the house. We all know what makes it a true conforming bedroom, so let's not pretend we DO NOT know what is a bedroom or NOT a bedroom, for marketing sakes.
Just keep in mind, that worse case scenarios do exist … like maybe a buyer was really interested in the house that had 4 bedrooms to satisfy his family needs, and just loves the house with a "non-conforming" bedroom, that the buyer NOW expects the homeowner to make "conforming"!! Not sure if you want to litigate this as an issue or make sure the homeowner creates a new egress window to conform this supposed non-conforming room into a bedroom.
Whew…. ok, I am off of my "pet peeve" for this topic!! Please stay safe out there, and always keep your clients' wants and needs ahead of yours!!
HAPPY NEW YEAR!!!
Mobile APP for home searching: http://app.kw.com/KW1C0MXR5/
Thank you for reading my blog,
Dan Hopper, Realtor®
Get your FREE book, here: Real Estate Book
Broker Associate @ Keller Williams Realty – Downtown Denver
"With the help of Dan, our family was able to get our first house here in Colorado. He was very knowledgeable in the field, knew… Read More
— R. Rodrigues
REVIEW DAN'S TESTIMONIALS, HERE!
Please, LIKE my Fan Page at:
https://www.facebook.com/DenverHomeMarket
Always use your Personal FB page to LIKE our Business Fan Pages!
" For your NEXT MOVE … 'Take the HOP to Excellence"!!
It is encouraging to see the real estate market change to a "positive equity" market swing, and NOW is the TIME to seize that opportunity to Buy and Sell!! Sellers, we need your home on the market, there are Buyers out there searching for homes, due to the lack of inventory!!
PLEASE CONNECT WITH DAN & FOLLOW HIM ON SOCIAL MEDIA, HERE!!
Dan Hopper, Realtor®, specializes in residential real estate in the Greater Metro Denver and Front Range areas, assisting the community in buying and selling real estate, Foreclosure avoidance in Denver Short Sales, Arvada, Golden, Denver, Westminster, Arvada, Thornton, Broomfield, and Colorado. Thank you for reading, "What? A "NON-Conforming Bedroom" Exists?"